Dear TeamWox users!
The license policy for free and commercial standard licenses of TeamWox collaboration system is to be changed from January 2013. We complete the free period for 10-user licenses, as well as for educational and governmental ones. The new free licenses are no longer provided. Current users of these TeamWox versions will still be able to work in the system and receive updates.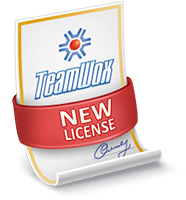 You can use the trial version of TeamWox to familiarize yourself with the system. These versions have no limitations by the number of users or functionality, except for the trial period of 2 months. Upon completion of the trial period, you just need to pay for the commercial version to continue working in TeamWox.
Some changes also concern TeamWox commercial version. The minimum number of users during the system purchase has been reduced from 11 down to 5 users. Thus, the commercial license's price will start from $750 for 5 users with each additional account costing $150. Besides, large enterprises with a total number of 120 users and more can purchase TeamWox license for an unlimited number of users. It costs $18 000.
The license already includes one year's subscription to all the system updates and our full support service regardless of the number of users. Subscription renewal for a year comprises 20% of the product's price. For example, it will comprise $150 annually for a five-user license. However, it is not a binding condition and you can refuse from subscription. In that case, system updates will be unavailable and technical support will be limited to the official forum.
Find more details on TeamWox terms of delivery.
2013.01.14