Lot of companies sooner or later are facing the fact that customer support requires too much time and resources. Clients are forced to wait their questions to be answered for days or even worse - for weeks. It often happens that their requests and appeals are simply getting lost in the paperwork. If a customer base grows more rapidly and requests become more sophisticated, all this can turn into a truly impossible task.
However, there is a brilliant solution - implementation of automated customer technical support system (it is often called Service Desk or Helpdesk). This approach provides an efficient and effective processing of requests coming from your customers. It also allows you to take your internal technical support service under control. The business management system will record not only each client's request and customer feedback, but also every answer of your technical support team. There will be no way for them to ignore or pass a request to another employee, while possessing sufficient competence to deal with it.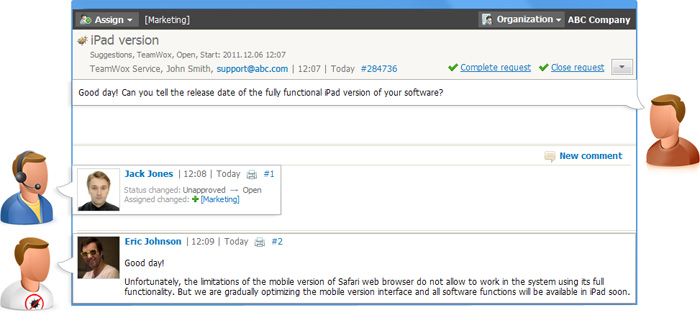 Service Desk module, included into the TeamWox groupware standard delivery, provides an efficient customer technical service based on the outside requests. This is achieved via integrating Service Desk with your corporate website. The help desk mechanism is fairly easy. Client's inquiry comes into business management system via company website, and request is created online automatically. Depending on its contents, request is assigned to a particular group of employees that will handle it. For example, if there is a question is about product supplies - request will go straight to the sales and marketing department, if client is interested in financial aspects - request will go to the accounting department, etc. This kind of sorting into service groups allows you to quickly assign a task specifically to those workers who are able to solve it. The status of request is updated as the problem is being solved, so that the heads of relevant departments can monitor how well their employees cope with workload.
Helpdesk of the collaboration system includes registration coordination and subsequent solving of customer requests, as well as informing customers about their requests' status and automatic report generation. In other words, help desk can be represented as a supervisory service that receives complaints and suggestions from users, controls fulfillment of tasks assigned to various departments and monitors the process of solving clients' problems.
In general, Service Desk allows customers to directly and online communicate with company's customer support service or any other department, as well as to watch over requests handling real-time. This increases the transparency of your company, allows to establish a reputation of a truly customer-oriented business, and most importantly - helps your clients to quickly deal with a bunch of problems and issues.
Related articles:
2011.12.08