Business reports in TeamWox collaboration software substantially facilitate management of your business. Firstly, they provide the authentic data about a current state of affairs in the company. Secondly, the creation of such reports does not demand any time commitments from users – they are generated automatically. Thirdly, business reports are the objective indicator of employees' activity for a company management. Fourthly, the reporting data is always current and cannot be out-of-date. All these factors indicate that reports are a useful tool in automation of business processes inside a company.
In the TeamWox business management system reports are built in practically all modules. At the moment the users of the collaboration system (depending on the appointed rights) by means of reports can receive the full information on the organizations (customers relationship management), tasks, email, chat usage and customer support, servicedesk (helpdesk tool), employees and payments. Each of these business reports provides the user with a maximum amount of data on activity of the company's staff in a certain module. From the average age of department employees to the efficiency of employees' work with clients – reports cover all aspects of a company's working activity.
How actively do employees use certain modules? What clients contact the technical support more often? Who answers the clients' questions more often in the online chat? Who is assigned the most of tasks in Task Manager? What is the growth of the number of organizations and tasks? What types of documents do employees use in their work? What are the employees' working hours? All these questions are covered by the TeamWox Groupware's Business Reports. For better visualization, information is presented in the form of charts and diagrams. One sight on the reports is enough to understand: in TeamWox Business Management System everything is under control.

Business reports provide a wide range of opportunities to control the working activity of employees. So you can easily automate business processes inside your company, because you can always define how your staff members work.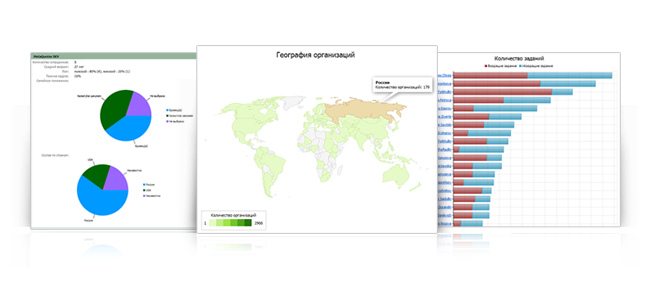 Soon we are going to widen the functions of reports: new possibilities will be added, already existing reports will be improved, reports on the company's financial activity will become more detailed. This will enable you to control your company's activities even more carefully.
In one word, the system of TeamWox business reports is a new, more productive way to work with information. Supervise everything in the work of your company, it is quick, convenient and does not demand any expenses.
Related articles:
2010.04.15