Basically, Customer Relationship Management (CRM) is a management of interaction with clients and contacts. And CRM systems are corporate information systems intended to simplify team work with clients for marketing managers, contact and sales managers. According to this system's approach the key figure in business is the customer. And the more the company is focused on satisfaction of requirements of the client, the greater its chances for success are. Up-to-date CRM solutions require serious consideration in highly competitive markets.
TeamWox, as a business management system, has a lot in common with CRM software, though its range of function is much wider. Thanks to installation of TeamWox collaboration software, you can get a free CRM system and reach similar positive results: increase of sales, optimization of marketing management and improvement of client-oriented service and customer support. Even though TeamWox shouldn't be reduced to CRM systems, this article will be devoted to CRM solution functions in groupware. Let's have a closer look at them.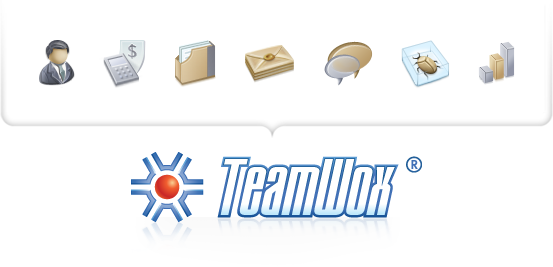 Clients and Contacts Data Base

TeamWox business management software concentrates all customer information in one place. Instead of a set of various databases and separate records, there is a single customer information storage. Due to that the full history of relations with customers and clients is accessible at any moment.
The TeamWox collaboration system also allows full operation of the sales process. It is easy to trace all stages of the transaction and to reveal problems on different stages in this contact and sales management system. It is also easy to trace the preferences of customers. All these tools of CRM system that are brought to life in TeamWox business management solution, lead to the fact that the sales managers who work with customers receive a considerable amount of the information about them. And the time of analytical work is sharply reduced. Therefore, the overall objective of CRM systems is reached - clients receive fast and good quality customer support service.
Build-in Accounting
Module "Accounting" in the TeamWox business management system allow conducting and analyzing all financial operations in the company. The module performs automatic exposition of bills to customers and registers the payment of these bills. By means of "Accounting" the head of the company can operatively receive the information on all financial operations and money flow, as well as organize the online sales. The important trait of "Accounting" is their immediate reaction to any financial operations in the company. Start of an advertising campaign? Equipment purchase? All this is instantly reflected in Accounting.
Because the condition of payments is strictly traced now and is accessible at any moment, it leads to more effective interaction with the customer and to acceleration of sales and orders processing.
Docflow and Document Management
The TeamWox Groupware stores all documents (files and data) connected with the customer in one place. All documents received by e-mail, attached to the task or the message, are saved right away in the collaboration system and are available to users. It allows to get rid of paper chaos and systematizes all information, collecting it in one place. The more convenient the presentation of the documents is, the easier it is to team work with the customer. And once again, the overall objective of CRM systems is reached - speed of service increases.
Integrated eMail Client

The email module in TeamWox business management system also a part of the CRM software. How does work with email look like in the usual, not automated company? It's a mess. It means that correspondence with the client goes on in the separate email program which is not connected in any way with other programs. Why would anyone agree to such voluntary isolation?
In TeamWox collaboration software the vicious circle is broken. The emails to the client can be sent directly from the business management system, since it has the eMail Client. And due to the connection with the Document Management module it is possible to attach necessary files and docs to the email. All correspondence with the customer automatically becomes history and is saved in TeamWox collaboration software. As a result even in some years it is possible to easily find correspondence with a particular client.
Customer Feedback: Chat (with customer support function) and Service Desk (Helpdesk tool)
In the TeamWox business management software there are many means of communication and customer feedback maintenance. One of them is the built in chat with customer support function. It can carry out functions of the online adviser, thereby carrying out communication with the external organizations. And that alone is an additional tool of effective work with the customers, accelerating service. A true find for the client-focused company!
Another useful tool of CRM-strategy in TeamWox groupware is a system of technical customer support of external and internal customers, also known as Service Desk or HelpDesk. It is perfectly integrated into a corporate website and becomes an additional means of client support. Thanks to helpdesk clients can personally supervise their demands and will always be well informed concerning exactly how their problems are being solved.
Business Reports
Analytical module of business Reports in TeamWox collaboration software is also focused on improvement of work with customers. It is a powerful tool of work with the data and the generator of reports on current activity of the company. The system can give out a large quantity of various reports - from productivity of each sales manager at work with clients to debts of every particular customer. The full cycle of tracing of work with the client, a gain of client and contact database, management efficiency, verification on debts, pricing, sales and other financial reporting – that is only a small part of what business management system module "Reports" can provide.
TeamWox Business Management Software as CRM Solution
Let's summarize the main principles of any CRM system:

Effective interaction with customers
The analysis of the collected information on clients
The estimation of efficiency of actions of the personnel and marketing actions
All these principles are successfully realised in the TeamWox business management system, even though it is not a CRM system entirely. Work with clients will become easier and faster thanks to TeamWox groupware, since it has everything necessary to achieve this goal.
Related articles:
2010.04.15