Reports
Several reports on organizations are implemented in TeamWox. In order to choose the necessary one, you should press the "Reports" button located on the top of the "Organizations" tab. The available reports will appear in the right part of the tab instead of filters, once you have pressed one of these buttons: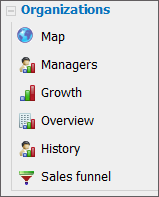 The forming of reports depends on the filter you were in when you pressed the "Reports" button. For example, if you are currently in the "Potentials" filter, then the reports will be formed according to the list of organizations that meet the filter conditions. Thus, you can form a report of any category of organizations using the "Filters-Reports" combination.

Using the context menu, one can print any report or export it in *.XLSX, *.XML, *.CSV or *.PNG formats.