Module Settings
In order to start setting up the "Organizations" module you should go to the "Modules" tab at the "Administration". Then you should press the

button located to the right of the "Organizations" module.
The autobinding of information from different modules to concrete organization is implemented in the TeamWox system:
At autobinding of one of the specified above elements, checking is performed by the full e-mail address indicated for the organization. If none is found then the checking is performed by e-mail domains and web addresses. The setting up of the "Organizations" module consists in making a list of domains that will be ignored at autobinding. This function is intended to prevent false binding by public domains (not corporate).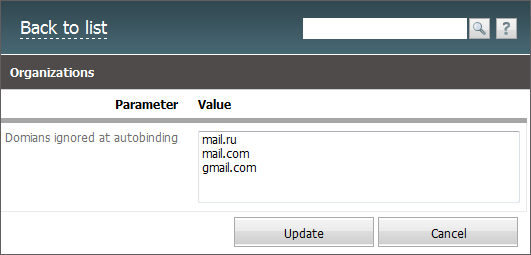 In the "Domains ignored at autobinding" field you should specify the domains the autobinding will not be performed by. Each domain must be specified in a separate line.
In order to save the settings you should press the "Update" button.