"Contacts" module
The "Contacts" module is closely related to the "Organizations" module. All the contacts registered for each organization are shown here. The interface and the functionality of both modules are similar. The functions for entering any kind of information about certain contact persons of an organization are provided here. The possibility of storing the information about the contact relationship history and correspondence between them and your company is provided, too. The "Contacts" tab is represented below: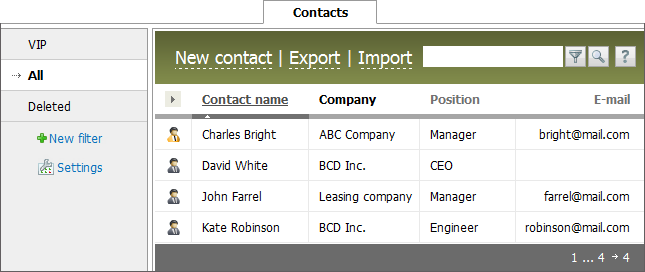 The "Contacts" tab is divided into a number of working areas, each described in separate sections:
•The buttons located in the upper part of the tab are described in the "Add/Edit Contact", "Export", "Import" and "Reports".
•The filters located in the left part are described in the corresponding section.
•Contact list manipulations are described in the section of the same title.
•This tab contains the search line, as well, that can help you to find necessary contacts in the list.
•You will be moved to the view contact window, if you press with your mouse on the contact's name. At the same time, the filters located on the left side will be changed for the tabs divided by their functionality.