"Administration" Module
This module is used to administer the TeamWox system. It is invisible to ordinary users of the system. All the administration tools are concentrated here. The module opens on the "Common" tab by default. The other tabs are located on the left side of the window: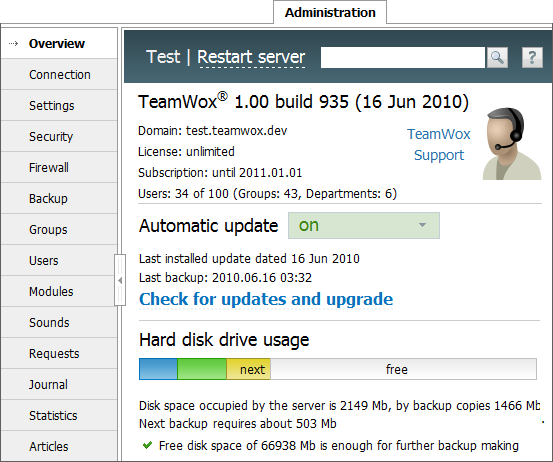 •Overview — system and license information.
•Connection — information about the network connection.
•Settings — TeamWox system settings.
•Security — security settings. Password parameters, account bindings, etc.
•Firewall — setting of access to the system by IP addresses.
•Backup — backup of information.
•Groups — adding, editing, deleting groups, assigning of access rights.
•Users — adding, editing, deleting users, assigning the rights to access to modules.
•Modules — administering modules and managing updates of TeamWox.
•Sounds — setup of sound notifications of system events.
•Requests — page from which one can directly communicate with the system developers via requests.
•Journal — monitoring TeamWox events.
•Statistics — statistics of TeamWox resources usage.
•Articles — section of articles about TeamWox