"Service Desk" Module
The "Service Desk" module is a tool for setting, planning and controlling issues. The scheme of working in it is slightly similar to the "Tasks" module, but it has a number of significant differences:
Service Groups




The work is carried out by special service groups that consist of qualified employees who are responsible for one or another project (product).

Categorization




In each group various categories of demands by type, importance, etc. and various products that are maintained in it can be created.

Strictly Controlled Incidents




Tasks are set via requests which have group, category, product and assigned employees specified explicitly. Besides, all main parameters of requests including its status (open, closed, etc.) cannot be changed without a comment.

Interaction with External Resources


The "Service Desk" module has a special component that allows to work with requests at external websites. This allows to raise the service of customers to a new level.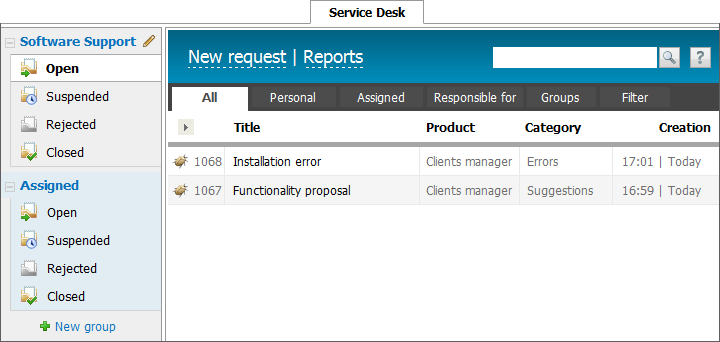 The left part of the "Service Desk" tab is intended for working with service groups including special "Assigned" and "Monitoring",box that is available for every user. Service groups and categories that contain new or updated requests are marked by the

icon.
The upper part of the tab contains the "New request" and "Reports" buttons using which you can perform corresponding actions. Besides them there is a search line that allows to quickly find a necessary request.
The main part of the tab is occupied by the list of requests.