Assigned Requests
The "Assigned" section is available for all users who have access to the "Service Desk" module. This allows to assign the work to any necessary employees independent of whether they have rights to a service group or not.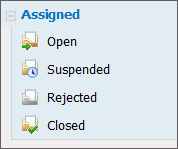 In the "Assigned" block, like in usual groups, requests are displayed in sections according to their statuses.
A request can be assigned to a user either when creating it or when writing a comment to the request. This can also be done by the

button when viewing a request.
If a service group in which the request has been created is available to an assigned employee, it is displayed both in this group and in the list of assigned.