Integration with the "Organizations" module
Integration of the "Service Desk" module with organizations consists in the possibility to bind requests to them. If a user has access to this module, then the "Service Desk" tab appears in the organization viewing mode. Here all requests connected with the organization can be viewed: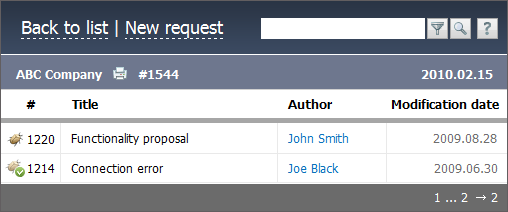 The following information is available here:
#

— icon that displays the status of request and the number of request.
Title

— title of the request.

Author

— user who created the request.

Modification date

— date of the latest modification of the request.
Press on the request line to move to its viewing in the "Service Desk" module. The "New request" button located in the upper part of the tab is used for creating requests. The newly created requests will be automatically bound to the viewed organization.
So you can view all the information on a client in a single place. This will help you render better services.