"Organizations" module
The "Organizations" module is intended for creating and maintaining the company's united database of organizations. It provides the possibility to add information of all types, the details of individual contact persons, the history of working and correspondence with this organization. The "Organizations" tab is given in the screenshot below: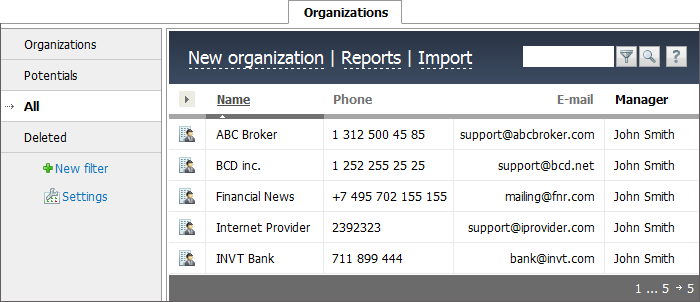 The "Organizations" tab is divided into a number of working areas, each described in separate sections:
•Buttons located in the upper part of the tab are described in the "Add/Edit Organization" and "Reports" sections.
•The filters located in the left part are described in the corresponding section.
•Organization list manipulations are described in the section of the same title.
•This tab contains the search line, as well, that can help you to find the necessary organization in the list.
•You will be moved to the view organization window if you press with your mouse on the organization's name. At the same time, the filters located on the left side will be changed for functionally separated tabs.