Settings
In order to start setting up the "Organizations" module, one should press the "

Settings" button. The settings window contains two tabs:
Service Level (SLA)
SLA - Service Level Agreement between the organization that provides an IT service and the user. The "Organizations" module provides the possibility of specifying the time limits for maintaining the requests of clients. When creating a request in the "Service Desk" module and binding it to an organization, the time limit for it will be automatically filled on the basis of the date of creation and the execution terms specified for the organization.
Before assigning a certain level of service to an organization it is necessary to create it: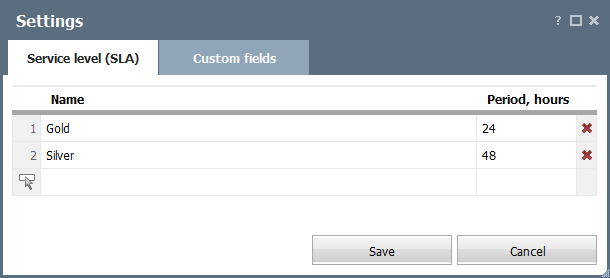 Click on an empty row and specify the category name and the time limit (in hours) for execution of requests. To delete a category, one should press the

located at the row end.
Once setting up is finished you should press the "Save" button. All the created levels of service will be available to choose in the "Service level" field while editing an organization.
Custom Fields
Custom fields for specifying information about organizations can be added at this tab.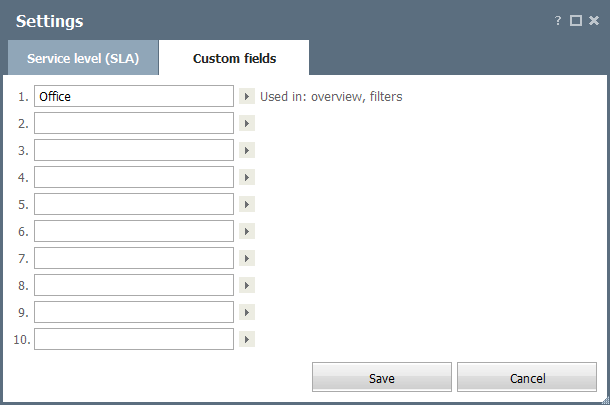 To add a custom field, specify its name in one of the rows of this window. Then, using the

button, choose the elements of the interface of the Organizations module, where the custom field should be displayed.
In order to add a custom field, one should set its name in one of the lines of this window. Each custom field has two settings:
All the custom fields are added to the "Main" box of organization details.
All the custom fields can be used for creation of filters.