Board Topics
The list of topics is displayed in the main part of the Board tab.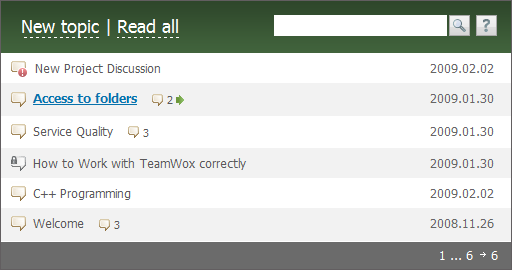 The "All" filter is opened by default when a user goes to the Board tab. The left part of the list contains topic names and the right part shows dates of their creation. If you hold the mouse cursor over the name of a topic, the pop-up help containing the category name the topic belongs to and several first lines of its first message will appear. The

icon and the number of comments are displayed to the right of the topic name. Clicking on the icon you will go to the viewing of the first comment of that topic.
If you have not read a topic yet or there are new unread comments on it, its name is colored in blue. If there are unread comments in the topic the

icon is also displayed to the right of the comments counter. Click it to view unread comments.
If you press the "Read all" button then all board topics will be marked as read. Use of this function is convenient after a long period of a user's absence in the system.
The left mouse button click on a topic name will open the board topic. After that the topic viewing window will be opened. Instructions of how to work with this window are given in the "View Topic" section.
The

sign displayed on a topic's icon denotes that this topic is of high priority. The priority status can be set to a topic when creating or editing it. High-priority topics are always shown in the top of the list. All other topics are sorted by the date of their changing.
The

icon of a board topic denotes that this topic is closed and comments cannot be added to it anymore.