New Topic
The list of topics available in the board is displayed in the main part of the tab. In order to create a new topic, you should press the "New topic" button. As soon as you press the button, the window shown in the screenshot below will appear: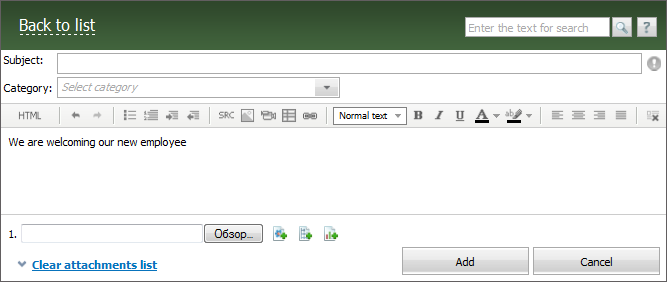 It is necessary to specify the following information when creating a topic:
You should enter the subject of your topic in the "Subject" field.

Button located to the right of the "Subject" field will help you to assign priority, if necessary. You can assign a high priority to a topic by single pressing on this button with your mouse. Then the button will become red: . The repeated click will return the customary status to the topic.

You should choose the category name in the list that opens, if you press on the "Category" field with your mouse. This list contains all the available categories of the Board.

The window of the message editor is located at the bottom of the window. There you can type the text of the first message of your topic. The window for attaching a file will appear, as soon as you press the button, as it is shown in the screenshot above. You should press the

button to remove all the attached files.

Once you have filled out all the above fields, you should press the "Add" button. If you press the "Cancel" button, the topic will not be saved, and you will be moved to the previous page.
The high-priority topics are always shown in the head of the list. The other topics are sorted by the date of their last modification.
You must have at least one category created in order to create the topics. If you start creating a topic while viewing a certain category of the board, the topic subject will be automatically placed in the "Category" field. If you start creating it in the "All" filter, you'll see the "Choose category" inscription in this field.