External Source Widget

This widget allows to display any external web page at the "Home" tab. The instructions of how to install and arrange widgets on the "Home" page are given in the Widgets section.
In order to start adjusting the widget, one should press the

at the upper right corner of its window: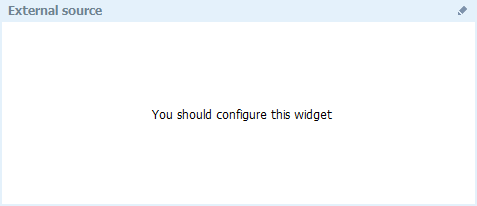 Further you should type the address of the necessary web page in the only field of the window:

Pages that actively use the client scripts (JavaScript) may be displayed incorrectly and affect the working of TeamWox interface.
Once you press the "Update" button, specified web page will be displayed in the widget window: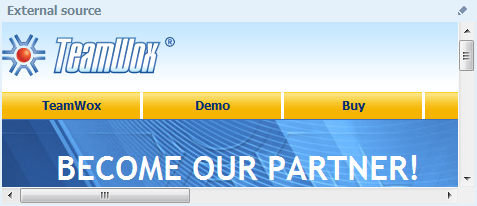 A selected external source may be not displayed due to reasons independent of TeamWox groupware:
Page embedding may be prohibited on the website (for example, embedding is prohibited on www.google.com).

If your TeamWox system works via the secure protocol "https" (https://yourTeamWoxaddress is displayed in the browser's address bar), then the websites that work via "http" will not be displayed too as the browser will treat their content as unsafe.