Reindexing
Usually only your TeamWox administrator has a permission to reindex information in the system. It is not recommended to assign this kind of permissions to common users.
In spite of automatic indexing performing in TeamWox as far as it is added, some situations when manual reindexing is necessary are possible. For example, in case of server halting.
In order to reindex information, you should press the

Reindex button that is located below the list of modules.
The function of reindexing is only available to users that have sufficient permissions that are assigned by the administrator of the TeamWox system.

Reindexing of information of all the modules is started automatically every Sunday at 03:00.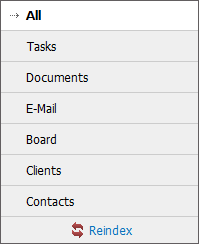 A window for selecting the modules to be reindexed will appear as soon as you press the button of reindexing: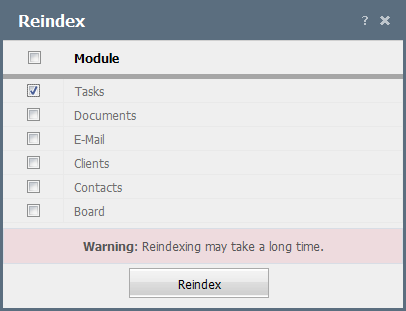 Select the necessary modules by ticking the checkboxes against them, or tick the "Modules" field to select all modules at once. To start the process, you should press the "Reindex" button. If you need to break the operation, then close this window.
After reindexing has started and up to its end, the following warning will be displayed in the window of the "Search" module: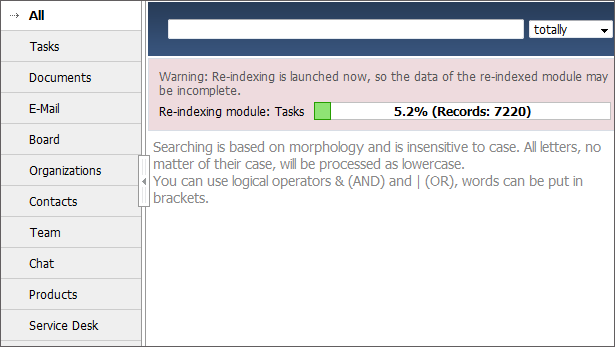 This message is visible to every user. It is not recommended to use the search system during reindexing, because the search results may be incomplete. So, it is recommended to launch reindexing when there are minimum users utilizing the system, in order not to limit their resources. The warning also contains the progress bar of indexing the module the data of which is currently processed.
To update the information about the progress of reindexing, refresh the tab or the browser page.