Widgets
Two widgets are implemented in the "Accounting" module.
Last Orders

This widget features the list of newest invoices added to the Accounting module. Invoices from all books sorted by date are featured in the widget.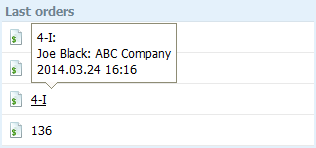 When you move the mouse cursor on the invoice name, a tooltip with its creation date, manager and recipient appears. Click on the invoice to view it in the Accounting module.
Not Passed Orders

This widget displays last not passed orders. The orders are also displayed by all books and are sorted by date of adding.