Reports
Several types of reports are available in the "Accounting" module. In order to select a report, one should press the "Reports" button while view the list of books or orders and payments. After that the list of available reports appears in the left part of the window: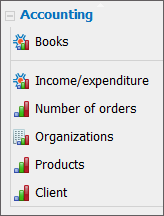 In order to select a report, one should click on it in the list. The following reports are available here:
•Books — summary report by all books, created in the module.
•Income/expenditure — a diagram by incomes and expenditures by a selected book and organization.
•Number of orders — a diagram that displays the number of orders in the module or in a separate book.
•Organizations — turnover by documents grouped by organizations.
•Products — turnover by products for a selected organization.
•Client — general report on the organization and a client.