Report on a Client
In this report you can view all the financial operations of a certian client in the chronological order and also the grand financial total as of the moment of passing of each order or payment.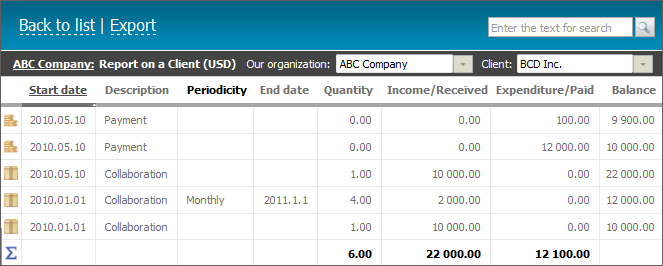 Using the "Back to list" button you can return to the list of reports. Using the "Export" button one can export the report to an external file.
It is necessary to specify the following parameters in the upper part of the tab:
•Book — in the first field to the left one should select a book the report should be created by;
•Our organization — in this field one should select an organization the report will be created by. In other words, it is the organization that is the supplier in orders and the beneficiary in payments is specified here;
•Client — this field is intended for filtering the financial operations displayed in the report by organizations that participated in them. It is a company that is the recipient in orders and the payer in payments.
The report itself is displayed below. It contains the following information:
•Start date — the date of product or service supply, or the date of supply beginning, in case the supply is performed periodically.
•Description — the name of a product or service.
•Periodicity — if a product or service is supplied periodically, the period is specified in this field.
•End date — if a product or the service is supplied periodically, the date of the end of supplying is specified here.
•Quantity — the amount of currently received product or service by the order.
•Income — the sum that was received by our organization in the selected book as payments and as products (services);
•Expenditure — the sum that was spent by our organization in the selected book as money paid by payments and products delivered by orders .
•Balance — the financial result by the operations for the current moment including all previous orders and payments. The balance moves in the positive direction when a product or service is obtained, and it decreases when payment for it is made.
The lower line denoted by the

button shows the grand totals on all fields.
Only passed payments and orders are included into reports.