Filters
Every service group has 3 filters: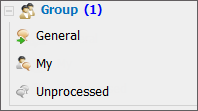 The number of employees having the "Online" status at this moment is displayed to the right of the group name.
The filters are intended for convenient separation of the dialogs:
If there is still no reply from any employee of your company, the dialog is displayed with the following icon: .
If the page on the client's side has not been refreshed within a minute (for example, if the client has closed the page or passed to another one), then the icon appears changed as follows: .
Active dialogs where at least one employee has replied are marked with the icon.
The completed dialogs have the icon.
In case there are dialogs waiting for a reply, a special notification icon blinks in the upper right corner of the window: . This notification is visible only to the users that have the "Work" permission in the service group settings.
Inactive () public dialogs are automatically closed in 5 minutes.
Personal dialogs are automatically closed if there are no new messages during 24 hours in it.