Assigned Mails
One of the main features of working with mails in TeamWox is the possibility to assign them to other users, in case of their higher competence in the given matter, or in urgent situations. Once a mail has been assigned, you can view and control it.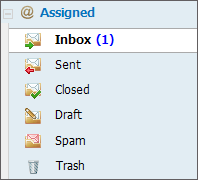 The "Assigned" block is always present in the "E-Mail" module, even if there are no profiles configured.
In order to assign a mail to any person, you should enter the mail view and press the

button located under the "Back to list" button. The window of assigning users will appear, as soon as you press the "Assign" button. The instructions of how to use it are given in the "Interface Description -> List of Assigned section.
Once the mail has been assigned to you, it is marked with the

icon in the list. You are able to see all the correspondence between the user it has been assigned to and the sender, so you can control it.
The mail assigned to you is displayed in the corresponding filter:

This mail is marked with

icon, too. The subject of the unread assigned mail, like that of a normal mail, is bold. If you put the cursor of your mouse over the mail subject, possible action buttons appear: "Close" and "Delete". The description of how to use these buttons is given in the "Mail List Manipulations" section.