Edit Folder/Document
You can edit a folder or a file, created in the system, by pressing

that appears if you point the mouse cursor over its entry in the list (if you have appropriate permissions for that). The edition of added files is performed at the page of viewing information about them.
Editing Created Document
The only thing that distinguishes this type of editing from the described above is the possibility to modify the text of a document. The "Information" tab of the document editing window contains the window of message editor with the original document text.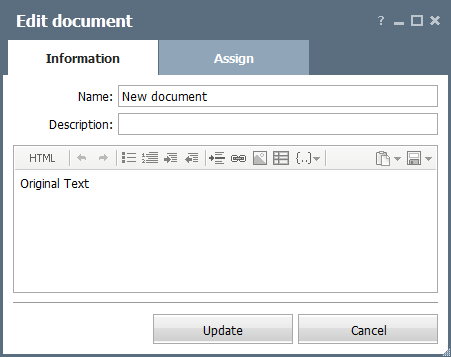 This text can be modified and then saved by pressing the "Update" button. The new version of the document will be added as soon as the modifications have been saved. All the versions of the document will be available for viewing through the window of viewing the information about the document. To modify the document name, point the mouse cursor over the "Name" field and make corrections using your keyboard.
The "Assign" tab is similar to that described in the "Add document" section.
Editing MS Word Documents:
Having Microsoft Office 2007 or higher installed on the computer, you can modify and save MS Word documents (*.doc and *.docx) directly via the web interface of the "Documents" module. For this you don't need to download a document and then upload back its modified version.
Put the mouse cursor over a document row and click

icon: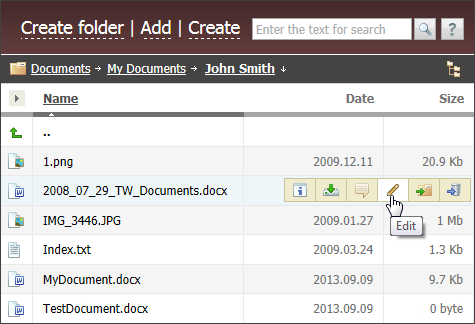 The document will be opened in MS Word. Make your corrections and save them. The updated version will be saved directly in the "Documents" module.
When saving a document for the first time, you may be asked to specify your login and password used for authorization in TeamWox. Do it and select the option to remember the authorization details in order to skip this in future.
•Documents are modified using WebDAV protocol.
•Currently, direct modification of MS Word documents is possible using Internet Explorer only.
Editing Folder
You can modify a folder name and description in the folder editing window. It contains the information about the date of creation and the author, the date of modification and the last modifier. To modify a parameter, put the mouse cursor in the corresponding field.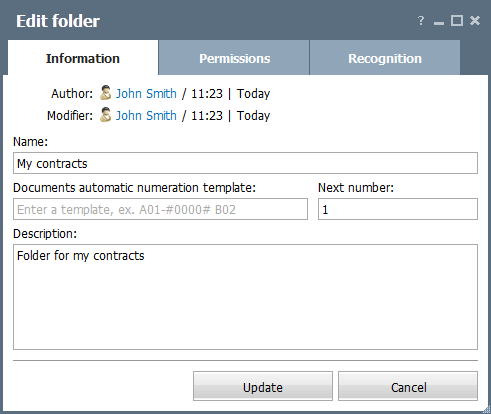 You can edit access rights on the "Access rights" tab, and the settings of automatic recognition of images at the "Recognition" tab. The process of editing that parameter is described at the section about creating a folder.
In order to start editing the current folder, one should press the

button on the line of moving one level up marked with the

icon.