Filters
You cannot create your own filters in the "Documents" module. You can find the following integrated ones here:
•All — filters are not applied here, you can view all the files that a folder contains. The feature is that the "Read" and "Sign" buttons are not shown here.
•Last — the last 20 new or modified files are shown here.
•In hand — the documents assigned for reviewing and signing to or by you are shown here. The buttons of reading and signing are visible in the "Last" and "In hand" filters.
•Considered — the documents that have been assigned to or by you and that have already been reviewed or signed are shown here.
•Trash — the section where the deleted documents and folders are moved to. It is intended to prevent the accidental deletion of data. A file or folder can be restored from the trash or be completely deleted.
Documents/folders are automatically deleted from trash as 30 days pass since they were moved there.
If you are currently in the "Last" or "In Hand" filters the additional column "User" appears in the list of the documents. It shows users and groups that were assigned for reviewing or assigning the document:

The currently selected filter is shown with an arrow and its name is typed in bold as it is shown in the screenshot below.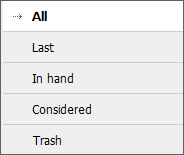 The button
appears in every filter, except "All", if you put the cursor of your mouse over any file in the list. You will be passed to the folder that contains this file, as soon as you press this button.
The feature of the filters in the "Documents" module is that they affect only the current folder you are in. In other words, if you choose the /Work/Managers/ folder in the "All" filter and pass to the "In hand" filter, you will see only the "in hand" documents that the "Managers" folder contains.