Getting Started
In order to start working in TeamWox, you should enter a proper address in the address line of your browser. Please contact your TeamWox system administrator for the address details.
In the TeamWox page, you will be asked to enter your Login and Password, as shown in the screenshot below: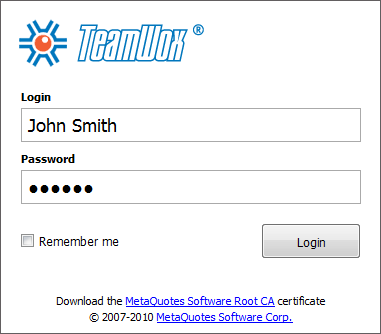 The relevant data can also be provided by your TeamWox administrator. The "Remember me" field in this window is provided for your convenience. If this field is checked, then the login and password will not be requested next time you enter TeamWox.
Once you have been authorized, the "Home" tab will open, which is the start page of the system.
If the lower part of the authorization window contains a link for downloading a certificate, it is recommended to download and install it on the computer.