User Details
You can enter your profile from each tab of TeamWox to view or edit your personal details. To enter your profile, you should press the button where your current login is indicated. This button is located in the upper-right corner of TeamWox window:

. User's profile will be opened as soon as you press it. The information in the profile is divided into several tabs:
Brief Information
You can view a brief information about a user, if you hold (for 1-2 seconds) the cursor of your mouse on the user name specified in various places of TeamWox, such as the author of a comment in a task or in a topic on the Board, etc. A window containing the picture of the user, his/her occupation and the information about his/her presence in the system should appear: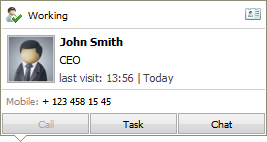 Presence in the System
If the employee is in the system at the moment, the following icon indicates it:

, the last fixed time of presence in the system is displayed after it. If the user is absent at the moment, the following icon should appear:

. The fact of presence of an employee at his/her workplace is fixed in the system, as well. The following icons are implemented for this:

and

. This situation is determined by the user's IP address. The range of the working IP addresses can be defined in the "Team" module.
You can track the presence of users in the system using the special application — TeamWox Communicator.
Status
Current status of the user is shown in the upper part of the window. For example, "Working".
Actions
If the employee's office phone number is specified in a certain manner while providing the contact details, the "Call" button appears as active, so you can call the employee right from this information window. A phone number indicated in the "Softphone (SIP)" field is used on default for calling employees. If it is not specified, then the work phone number will be used. You can go to creating a task for this employee in the corresponding module using the "Task" button. At the same time, this employee is automatically selected in the "Assigned" field. You can start an internal dialog with the employee through the "Chat" module by pressing the "Chat" button.
If any of the buttons mentioned above are unavailable, it means that you do not have appropriate access rights to the modules.
If you click on the picture of a user you will go to the viewing of his/her profile in the "Team" module.
Using the button

one can copy the user details to the clipboard.