Telephony
This tab displays subscriber settings of the users.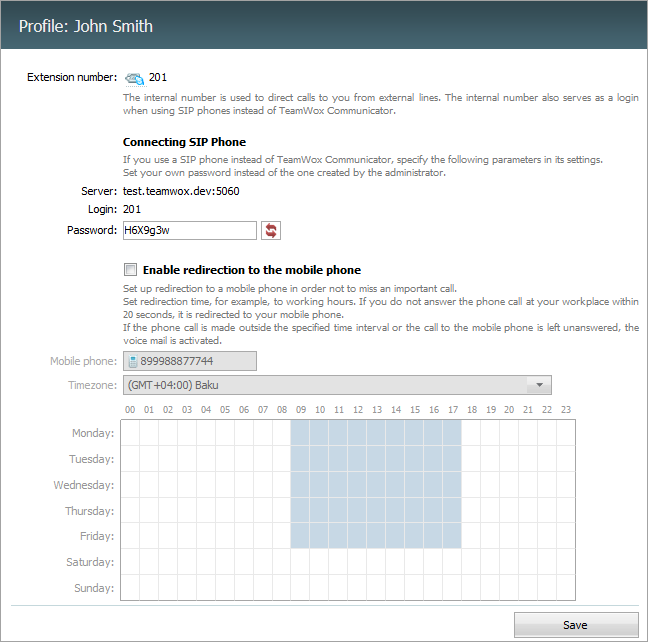 Extension number

— the user's extension number. When a caller dials this extension in addition to the common phone number given by the

provider, the caller will be automatically connected to the user.


For the users with the access to SIP telephony, details of SIP device connection to TeamWox are specified below:
Server — server address and port number.

Login — the extension number or the user's ID are used for the login.

Password — generated automatically when the option of SIP telephony is enabled. There are two ways to change the password: by entering the password manually or by clicking on

. When you click

, a new password is generated automatically.
Call Redirection
The TeamWox system provides a setting that enables redirection of incoming calls from the communicator to a user's mobile phone. A call can be automatically forwarded to a mobile phone, if the user does not respond to it from the working device for 20 seconds.
Call redirection can be configured on the "Telephony" page of the user's profile or in extension settings.
To activate the option, check "Enable redirection to the mobile phone". Then set up the following fields:
Mobile phone.

By default the user's phone number specified in the "Contact details" is used here.

Timezone.

The timezone applied to the user's working hours.

Working hours.

Working hours are marked in the timetable as blue rectangles, non-working hours are white

. To change an hour, click on it using the left mouse button.
As soon as configuration is over, click "Save".