TeamWox Interface
TeamWox interface consists of a set of tabs that separate functional modules.
The modules described above are the standard set of TeamWox. New modules developed specially for your company can be added in future. The number of modules available to an individual user may vary according to the system settings. If you do not see some of the modules described above, it means that your TeamWox administrator has not provided you with the sufficient permissions yet.
If all the available tabs do not fit the current window of the browser the

button appears. The list of tabs that are off the screen will be opened as soon as you press this button: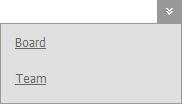 You can pass to the necessary tab by pressing with the left button of your mouse on its name in the list.