Styles
This section considers text styles in the message editor.
Styles are selected in the list that opens as soon as you press the

field. Eight different styles are provided. In the list their names are typed with the styles themselves: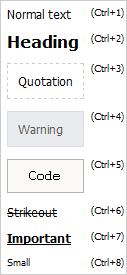 To apply a style to a text fragment, you should previously select this fragment and then select the desired style. Also you can use the corresponding hotkeys that are specified to the right of the styles names in the menu.