Processing Requests
Generally, the processing of public requests is the same as processing the ordinary ones, but there are a few peculiarities that should be mentioned.
Special Section "Incoming"
The groups that are publicly available, contain the additional section for external requests: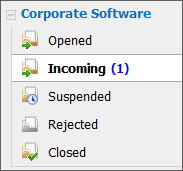 This section contains all the public requests that doesn't contain any comments from employees yet. As soon as an employee adds a comment, the request is moved to the "Open", in case another status is assigned to it explicitly.
Private Comments
When working with public requests the additional option, "Private", appears in the window of writing comment:

Private comments are only visible to employees in the system, they are not displayed at external resources. They allow working on a request without letting the request initiator into the discussion. Added private comments are displayed with grey background.