External Calls
The Telephony module, which is the part of the system, allows to use TeamWox as a full-featured PBX. If the IP telephony is properly configured in your system, you can call any external numbers directly from TeamWox Communicator.
Just dial a number using the numpad of your keyboard when the TeamWox Communicator window is active.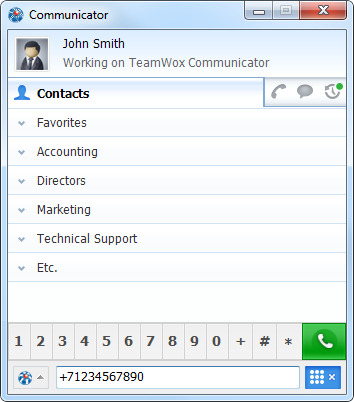 Also, you can open the dial pad at the bottom of the window by clicking

and dial a number using the buttons with numbers. Then press the Enter key or click

. The call status is displayed at the top of the TeamWox Communicator.
The number of oncoming and outgoing calls is searched for in the Organizations and Contacts modules. The name of the organization or contact found will be displayed in TeamWox Communicator and will be shown in the call log.
The incoming call window is shown in the lower right corner of the screen, separately from the TeamWox Communicator:

By clicking on the green button you can answer the call, or use the red button to reject it.