Calls
The TeamWox Communicator enables calls between the system users. If the IP telephony is properly configured in your system, you can make and receive calls from any external numbers.
The instructions of how to make calls are given in the following subsections:
List of Calls
The Calls tab of TeamWox Communicator displays all the calls performed for a selected day.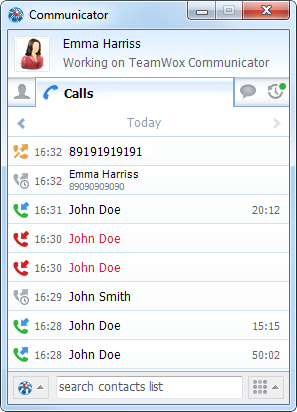 Each row displays the user name and the time of call. The direction and status of a call are displayed using the icons. The direction of arrows indicates the direction of the call. For example:
— an incoming call

— an outgoing call
The color of arrows indicates the status of the call.
— a successful call

— a missed/unanswered call, subscriber was busy during the call

— an error occurred while making a call

— subscriber was offline during the call
Selecting the Call Date
In the list, the calls are shown only for the date selected at the top of the tab. To switch to the previous and next day, use buttons

and

. You can also choose the day by a left-click on the currently selected date. This will open a special calendar: